Sunflower Aviation Limited is a privately owned company specialising in providing and servicing Fiji's Aviation needs since 1980.
Our company has played a key role in the provision of Aviation and Transportation related services in the Fiji Islands for more than 30 years.
Tim and Susan Joyce purchased Sunflower Aviation Limited in 2014 in order to expand their aviation capabilities and to have control over the maintenance and support of their aircrafts.  Under new management the team will continue and further develop the legacy and vision Sunflower was built on along with professional and experienced pilots and staff.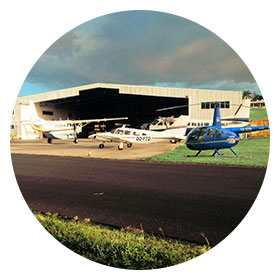 | Tour Name | Description | Price |
| --- | --- | --- |
| Malololailai Taster | 18 Minutes – A panoramic view of Malololailai and its surrounding Islands. | FJ$165 |
| Mamanuca Extreme | 40 Minutes – A detailed tour of the Mamanuca Islands | FJ$385 |
| Mountain Mystery | 40 Minutes – A scenic tour of the  Mountains & gorges of the Sleeping Giant | FJ$385 |
| Waya Discovery | 1 Hour – A scenic tour of the Southern half  of the Yasawa Islands | FJ$550 |
| Grand Yasawa | 2 Hours – A detailed scenic flight up to the beautiful Yasawas islands. | FJ$1100 |
| Viti Levu Wings | 4 Hours – A grand Tour of the Fiji's Main Island with a pit stop at Pacific Harbour | FJ$1375 |
| Levuka World Heritage Tour | 6 Hour  – A tour of Prehistoric Levuka, Fiji's old captial, with a guided tour & Lunch | FJ$1980 |