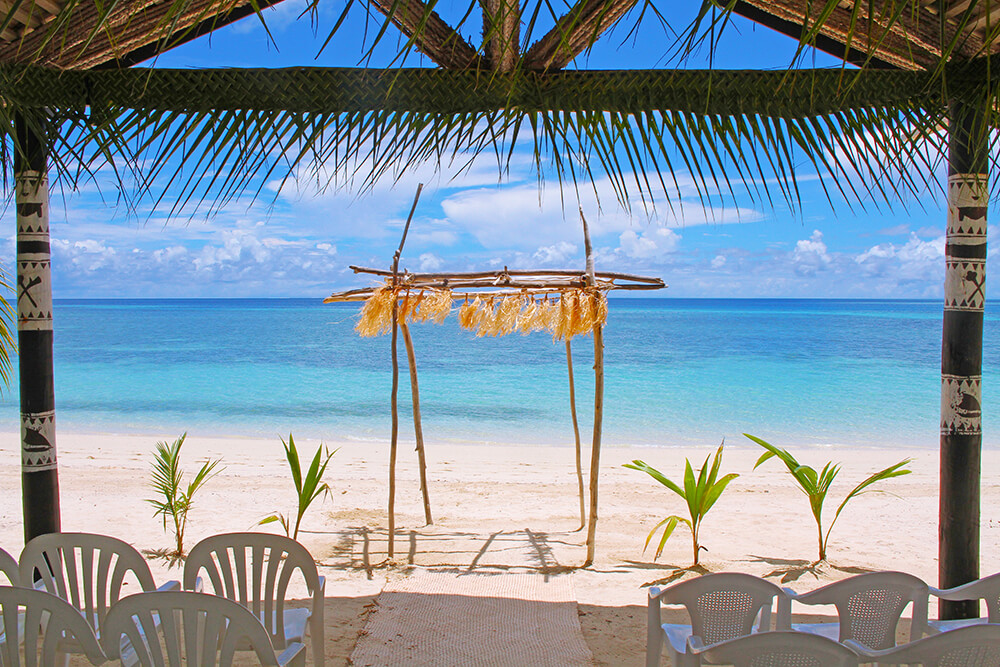 If you're a lover of travel, the beach, or romantic destinations, a destination wedding or honeymoon in stunning Fiji is probably your dream wedding. Scattered across miles of turquoise sea, this nation of 333 volcanic islands exudes tropical charm. There's something intimate and romantic about gathering your nearest and dearest to stay together, adventure together, and celebrate together as you and your loved one begin the rest of your lives as a married couple.
Destination weddings can seem daunting to plan and execute flawlessly, but a little research can go a long way. Once you've established your budget, check out local hotels and resorts to see what they offer. Plantation Island Hotel is one of Fiji's best family-friendly resorts, so you don't have to worry about what to do with the little ones. They offer a range of wedding and honeymoon packages to suit all tastes and budgets, and best of all, their in-house wedding planners will work to fulfil your every wedding wish – they can even marry you!
Bringing a dozen or so of your favourite people to one of the most beautiful travel destinations in the world can be less expensive than throwing a big to-do back at home. Marry on the sand with the sea as your backdrop, or in a historic limestone church or chapel, before returning to celebrate surrounded by tropical flowers under the stars. If your wedding party books 50 nights of accommodation between them (that's only 13 people at four nights each!), you and your brand-new spouse will receive a free night's accommodation at Plantation Island's luxurious couple-only sister resort, Lomani Island.
A tropical resort with all the trimmings, Plantation Island offers a stunning backdrop to your perfect day celebrating your wedding surrounded by your loved ones and the bright turquoise sea.
For more information about throwing a wedding at Plantation Island Resort, check out our wedding flyer and previous posts.