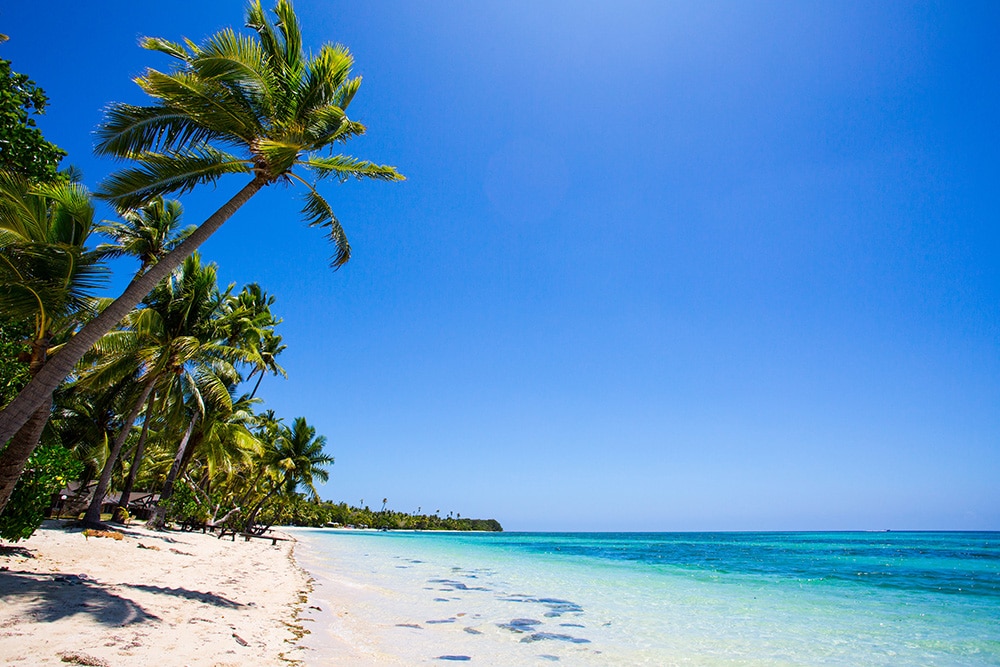 What it's like and how to manage it
Fiji is a magical place, with sand, surf, and sun aplenty. But what does 'endless summer days' really mean? Fiji's tropical climate means that there is little change in temperature from season to season, with most months reaching highs of 30C/86F, and the water remaining a balmy 26C/81F. But there are still fluctuations in temperature, rainfall, and – most importantly – mosquito activity, so read on and be prepared for Fiji's tropical climes, no matter what time of year you travel.
Wet season: November – April
Unlike the continents to the north and south of the globe, the equatorial region where Fiji is situated doesn't have four seasons in the classical sense. Instead, the year is divided into two seasons: the wet season, and the dry season.
Fiji's land mass is quite small, so "wet" season is a bit of a generous term. The wet season is characterised by heavy, brief local showers and contributes most of Fiji's annual rainfall. Annual rainfall on the main islands is between 2000mm and 3000mm on the coast and low lying areas, and up to 6000mm in the mountains.
The wet season is much more humid as well, so don't forget your insect repellent. Be sure to choose one without Deet, as it can react badly with many sunscreens and become toxic.
Dry season: March – December
The dry season is the most popular time to visit, so it's peak tourist season in most of Fiji. One of the reasons this period is so popular is that May – October is the best time for underwater activities, when visibility is at its highest. Highs in this season remain in the high-mid 20sC/70s-80sF, and rainfall and humidity are lower – though those insects are still lurking!
The constant sun is taxing on your skin, so be sure to pack plenty of your favourite sunscreen. Use something nourishing and lightweight on your face, and grease-free over your body – you're more likely to reapply if you love your sunscreen and the way it feels on your skin. Be sure to choose a sunscreen that's friendly to the reefs.
Self-care in tropical climates
Be sure to eat plenty of those beautiful local tropical fruits – they're high in vitamin C and antioxidants, which help keep your skin rejuvenated. Fresh fish and eggs are high in protein and antioxidants, and can stimulate collagen growth, keeping skin elastic and preventing wrinkles.
Keep your skin clear by rinsing off in a cool shower and using gentle cleansers each evening to get rid of the day's dirt and sweat. Don't forget your hair – gently wash out the salt water and apply a hair mask weekly to combat sun and salt damage.
Lastly, and maybe most importantly: hydrate, hydrate, hydrate. With year-round temperatures solidly in the 'warm' category, and a humid tropical climate that will make you sweat, it's crucial that you replace the moisture you're losing.