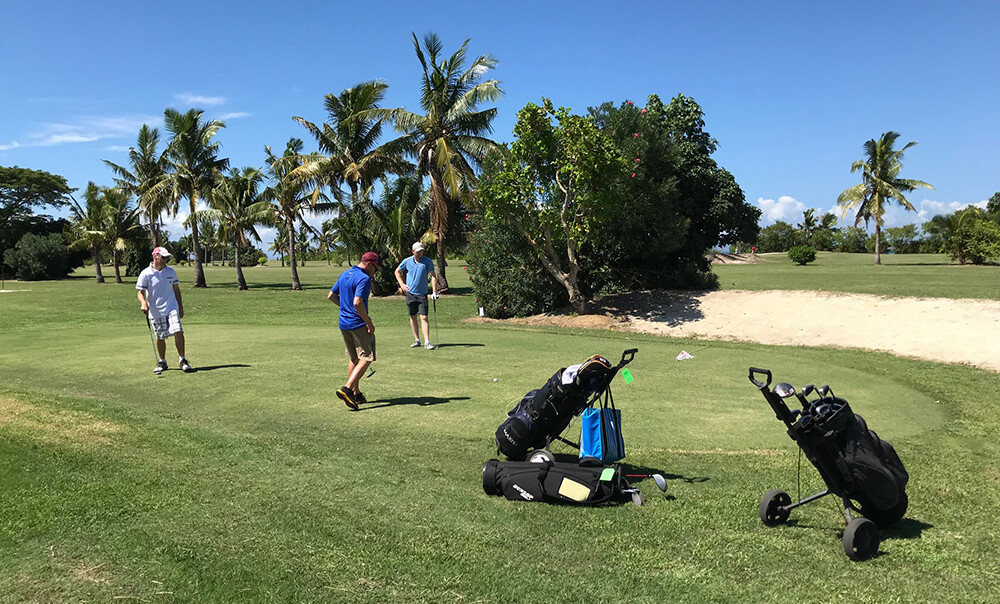 Thank you to everyone who joined us on Saturday 28th April for our second annual Animals Fiji Golf Tournament Fundraiser! For the second year in a row, Plantation Island hosted a fun day out of friendly competition for a good cause.
Our golf course was the perfect venue for the event, and we welcomed 35 players who participated in the tournament. The day was sunny and warm, a wonderful day for golfing. The players and their friends and families were invited to catch the Malolo Catamaran from Port Denarau to the resort. While the players made their way to the golf course, their entourages were able to frolic at the beach or stay and watch the golfing.
The participants enjoyed nine holes of golf, and prizes were awarded for best team score, longest drive and nearest to the pin. Everyone enjoyed a buffet-style lunch after the prize ceremony at Plantation Island Resort. Congratulations to Niven, our Resort Manager; and Umesh, our chef, the winners of the competition! Plantation Island Resort is happy to have contributed to such a wonderful day out.
Animals Fiji is a registered Fiji and US charity that focuses on animal welfare. They are based in Nadi but operate throughout Fiji. Their five clinics offer veterinary services and welfare outreach, and the clinic in Nadi also operates as a shelter, taking in strays, injured and abused animals. We are very happy to have spent a second year supporting such a valuable organisation, and hope to continue to support them in the future.
We would like to thank all of the sponsors for the event, which was a great success. We raised over $10,000FJ for Animals Fiji through sponsorship and the entry fee.