Explore exotic waters with Fiji scuba diving
Join us for an in-depth exploration of Fiji's exotic waters with Scuba trips to various locations that will suit everyone from beginners to advanced.
Subsurface Fiji is a multi-award winning PADI 5 Star professional dive company, taking divers to the best locations in the Mamanucas since 1988. The company offers an impressive fleet of boats, top-notch equipment and a highly skilled crew to deliver the best diving experience.
The safe and calm waters surrounding Plantation Island is a fantastic place to learn to scuba dive and is always one of the most memorable experiences of guests visiting Fiji.
A short boat ride away and just below the surface is another world. A world of vivid turquoise waters, abundant with beautiful hard and soft corals, teaming with an amazing variety of colourful reef fish making it the perfect way to discover Fiji scuba diving. Choose a relaxing dive in the calm inner reef waters or explore the deeper ocean side Mamanuca barrier reef where dolphins, manta rays, turtles and large pelagic fish are your dive companions. All in warm water 30-degrees celcius with excellent 15-25m visibility!
For further information on dive pricing and dive sites please visit the Subsurface website or contact the dive shop directly for all of your Fiji scuba diving questions.
Fiji Scuba Diving for all
Subsurface Fiji specialise in making diving fun for all. We have diving courses for all age levels from 8+ and for all experience levels tailored to the length of your stay.
PADI Discover Scuba Diving
A fun and safe introduction to Fiji scuba diving. Guided by your PADI instructor, in only half a day you will have fun in the classroom, pool and then it's off to dive the world-famous reefs with the guidance of your dive instructor. On completion you will receive a certificate that is valid during your stay allowing more great Fiji scuba diving experiences. Let's go diving! (Max depth 12m)
PADI Open Water Dive Course
Learn the fundamentals of Fiji scuba diving, including dive equipment and techniques. In just 2 ½ days you can get the certification for a lifetime of diving adventures.
Are you already a certified diver but feel a little rusty? Take advantage of our SCUBA refresher course review and get back under the water and enjoy some of the best Fiji scuba diving around.
Have you done your classroom and pool work at your local dive shop? Get your open water certification on holiday in the world's best underwater classroom!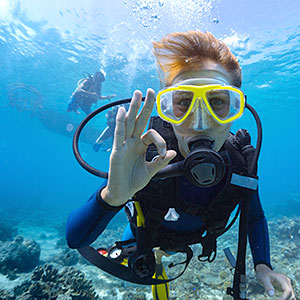 Ocean exploring doesn't get better than this!
For certified divers, our fast dive boats will take you to a choice of 44 dive sites in the Mamanuca Islands. We run a 2-tank dive trip departing daily at 8:30am, returning at 12.30pm and a 1-tank dive trip departing at 2pm returning at 3.30pm.
Expect to see caves, pinnacles, walls, a crashed B26 Bomber from WW2, a shipwreck and experience the shark encounter dive at the world-famous Supermarket dive site. Throw into the mix an abundance of tropical fish, large pelagic fish, and the colourful soft corals that Fiji is famous for and you will want to keep exploring these magnificent reefs during your Fiji scuba diving experience.
Dive trips departing daily. All dives are boat dives with PADI Dive Master services
Kids Eat & Transfer Free Offer
Make your Family holiday one of the most memorable ever.