Are you dreaming of Fiji holidays? Plantation Island Resort Fiji is nestled on the 553-acre Malolo LaiLai Island, part of the Mamanuca Group of islands, and is only 16km offshore west of Nadi International Airport.
Picture this. Plantation Island Resort Fiji embraces its lush 23 acres of tropical landscaped gardens and coconut palms, and kilometres of white, sandy beaches, some of which fronts a gorgeous, sheltered lagoon… exactly the type of setting dreamy Fiji holidays are made of!
From the very first moment you arrive you will experience the warmth and friendliness of our staff who will make your Fiji holiday one of the most memorable ever.
Plantation Island Resort has a relaxed atmosphere but bursts with plenty of activities and Fiji cultural experiences. Cool down and chill at one of our many pools or swim in the beautiful blue water lagoon. Take part in our featured daily activities or sip a cocktail at one of our many bars while you watch the sunset and take all the time you need to discover the magic of Plantation Island Resort.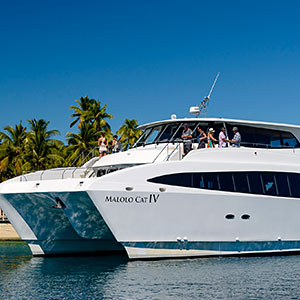 Transfers to and from … we'll have you there in no time!
It takes only 10 minutes to get to Plantation Island Resort by air or 50 minutes by boat. There are a few ways to reach the resort, all of which are easily accessible and can be arranged with your booking.
Plantation Island Resort knows weddings better than anyone. After all, we handle over 100 weddings a year! So our exclusive and easy-on-the-wallet Fiji wedding packages are terrific value.
Kids Eat & Transfer Free Offer
Make your Family holiday one of the most memorable ever.