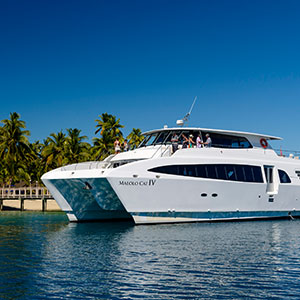 Exclusively serving Plantation Island Resort, Musket Cove Resort and Lomani Island Resort. Malolo cat operates three modern high-speed catamarans, transferring guests four times daily, in comfort, directly between Port Denarau Marina and Malolo Lailai Island.
| | |
| --- | --- |
| Departs Denarau Marina | Arrives Plantation Island |
| 7:30 am | 8:20 am |
| 10:30 am | 11:20 am |
| 2:00 pm; | 2:50 pm |
| 5:30 pm | 6:20 pm |
| | |
| --- | --- |
| Departs Plantation Island | Arrives Denarau Marina |
| 5:45 am | 6:50 am |
| 8:45 am | 9:50 am |
| 12:15 pm; | 1:20 pm |
| 3:45 pm | 4:50 pm |
All fares include FREE coach transfers between Nadi Airport, Nadi Hotels & Denarau Marina (please note that the 5.45am* and 7.30am bus transfer only services Nadi Airport and the Fiji Gateway Hotel).
* Transfer bus arrives at Nadi International Airport by 7:30am.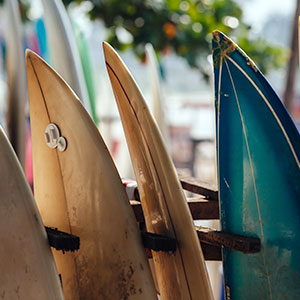 Due to transport regulations and insurance restraints, we regret to inform you that we are unable to transfer your boards to or from Port Denarau on our courtesy bus service.
Malolo Cat Freight Charge
Single Surfboard or Sailboard
Medium Surfboard or Sailboard
From Mainland to Plantation Island – A freight ticket can be bought from Malolo Cat counter staff at Denarau marina when you check in. Your surfboard/windsurfer will be freighted on the same Malolo Cat that you are travelling on and will be delivered to reception at Plantation Island upon arrival.
From Plantation Island to Mainland – Malolo Cat staff will arrange for a suitable taxi or van to transfer you or your boards to any Nadi Hotel or the Airport. This service is free of charge if you are holding a normal personal transfer Malolo Cat ticket or voucher and a surfboard/windsurfer freight ticket.
Note: Guests returning by air to Nadi who wish to send their boards by Malolo Cat will have to pay for the taxi/van charge to the airport or Nadi hotel of their choice plus the freight charge.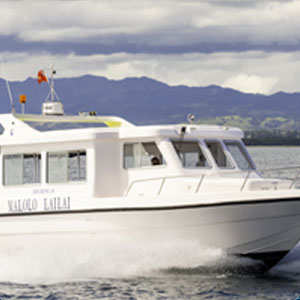 The newest addition to the Malolo Cat fleet, MV Malolo Lailai is now available for private, 24 hour transfers between Port Denarau, Plantation, Musket Cove and Lomani. MV Malolo Lailai can cater for up to 21 passengers comfortably. This service is best suited for groups wanting a more personalised transfer service, and those wanting to travel to the island outside of Ferry operating times. Malolo Cat is proud to offer the newest and most advanced water taxies in Fiji, at better rates than any competitor. Please note, guests are required to arrange their own taxi to and from Port Denarau.
| | |
| --- | --- |
| Number Of Passengers | Rate (one way) |
| 1-4 | $1,188.50 |
| 5-8 | $1,316.00 |
| 9-12 | $1,695.00 |
| 13-16 | $2,075.00 |
| 17-21 | $2,707.00 |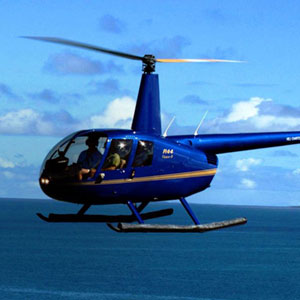 Heli Tours Fiji and Sun Flower Aviation operate helicopter & fixed wing aircraft charter services to and from Plantation Island Resort.
Helicopter transfers from Nadi/Denarau to/from Malolo Lailai Island (Minimum 2 pax) – FJ$555 per person
Fixed Wing transfers from Nadi/Denarau to/from Malolo Lailai Island (Minimum 2 pax) – FJ$242 per person
Kids Eat & Transfer Free Offer
Make your Family holiday one of the most memorable ever.