Fiji surfing is a wave rave

Our Surfing transfers operate by longboat and depart every day during high tide (we'll let you know when it's high tide, just ask). You can choose from 7 breaks, depending on your level of surfing skills and which has the better surf. Fiji surfing is as much fun as anywhere else in the world.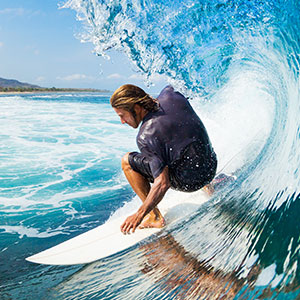 Trips take 15-30 minutes to reach the break, you then spend 3 hours surfing before returning. The entire trip takes about four hours. On some days the tour will go twice, once in the morning and again in the afternoon.
*Minimum number of 3 pax allowed.
Breaks include:
Wilkes
Swimming Pools
Restaurants
Namotu Left
Tavarua Right
Departure times/days for pre-booked surf transfers can be decided upon arrival. Surfers may upgrade pre-booked surf transfers or pay for additional transfers on the island by paying the price difference directly. Pre-booked Fiji surfing trips are non-refundable.
You cannot choose to visit all breaks and decide to surf the best, breaks must be chosen before departing (we'll have info on which should be the best for the conditions on the day)
*Fiji tide prediction charts may be viewed at:
**Please note that reef break surfing is not without risk and should be attempted by experienced surfers only.
Kids Eat & Transfer Free Offer
Make your Family holiday one of the most memorable ever.